At a glance: Apple overhauls iPod line, revamps Apple TV and updates iTunes, other software
By AP
Wednesday, September 1, 2010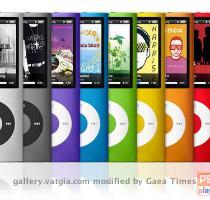 more images
At a glance: Apple unveils new iPods, Apple TV
Apple Inc. refreshed its iPod media player lineup and unveiled software updates Wednesday:
— Apple TV. The device for streaming movies and television shows over the Internet and into the living room is now smaller and cheaper. People can only rent, not buy, content. Price: $99, down from $229.
— TV episode rentals. Apple is now offering rentals of high-definition TV shows for 99 cents on Apple TV and iTunes. People can also rent first-run, high-definition movies for $4.99.
— iTunes 10. Apple's free media management software is getting a social update. The new feature, Ping, helps people learn what friends are listening to — and gives them an option to buy.
— iPod Nano. The new Nano lacks buttons; the music controls are on the touch screen instead. Price: $149 for the 8 gigabyte version and $179 for 16 gigabytes.
— iPod Touch. The new iPod Touch gets video-chat features similar to the newest iPhone. It has a front-facing camera for FaceTime chats, and a backside camera for taking snapshots and recording video. Price: $229 for the 8 gigabyte version, $299 for the 32 gigabyte version and $399 for 64 gigabytes.
— iPod Shuffle. The smallest music player in Apple's iPod line brings back the square shape and buttons of Apple's second-generation Shuffle. Price: $49 for the 2 gigabyte gadget.
— iOS 4.1 and 4.2. Apple is updating the free software that runs iPhones, the iPod Touch and the iPad. Users of the iPhone and iPod Touch will get the ability to upload high-definition video over Wi-Fi and take better-quality photos.
The iPad will get many of the features its siblings already have in November, plus wireless printing.
Filed under:
Apple
,
Technology
Tags:
Apple TV
,
Communication Technology
,
Computing And Information Technology
,
Consumer Electronics
,
Entertainment And Media Technology
,
Itunes 10
,
Media Distribution
,
Mobile Communications
,
Mobile Media
,
Mobile Video
,
Movie Rental
,
Portable Audio Players
,
Software