Microsoft Access 2010: 10 Best New Features in Microsoft Access 2010
By Partho, Gaea News Network
Thursday, February 18, 2010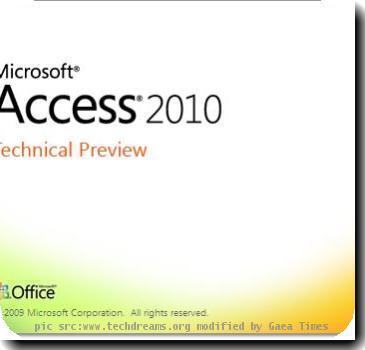 more images
Microsoft takes Office 2010 to a next level with heavy emphasis on web services. Microsoft Access 2010 sets new standards with exciting server-specific features and capabilities, with some more still to come. Access 2010 adds the ease of Access application development for creation of Web forms and reports. With the new features IT managers will have the ease of SharePoint 2010 product administration that will assist them in managing Access data, application objects and application behavior. Clearly, Access 2010 features are quite useful for small databases such as address books and CD/DVD collections. We assorted a list of 10 best new features in Microsoft  Access 2010 that would lift an end-users experience.
1. Web-ready database format
In some environments the web is a new desktop. Access developers team takes this into consideration to offer a web-ready format for databases. In earlier versions of Access you could publish to web via scripting technologies to access the data. Access 2010 makes web applications even more faster using the Web Database type.
Access 2010 provides SharePoint Business Connectivity Services (BCS) Support. It includes web services and line-of-business applications data. You can build right into the applications with Microsoft Access 2010. It helps keep your system safe by allowing you to view data that is trusted and validated by the IT staff.
2. AutoFormat replaced by Office themes

In Microsoft Access 2010 autoformat has been removed from the Fluent user interface and it has been replaced by Office Themes. The previous versions of Access depended upon formats to paint various forms and reports with the same color and styles. However, these formats are unique to Access. Microsoft  Access 2010 replaces it with desktop themes that can be carried over to other Office applications such as Word and PowerPoint.
3. Global changes to MRU file list

One of the most appreciable features of Office 2010 is the enhancement to the MRU file list. This might seem a small change but you can now right click entries in the list and elect to remove them or pin it to the list so that it is never popped off.
The default page is called Backstage View and replaces the File menu. It provides the links to view the Application Log, check for web compatibility, publish, compact, analyze or encrypt your database. Further, the relationship window has been removed from the ribbon where it resided in Access 2007.
4. Table Macros
The most exciting new feature for the developers is the addition of macros to the Access table. The coolest thing about this development environment is that you can right-click the page and copy part or all of the macro and paste it into another section. Paste the text of the macro into Notepad to share it with others, such as the newsgroup post where you ask for assistance with the code.
Here's a list of new features with triggers
Create, delete, or edit a record
Set a field or variable value
Raise an error
Log an event
Send an Email
5. Macros (General)

In Access 2010 you have a Table Macros. Like the macros in previous versions you can assign many actions. Macros may be represented with XML that lends them more credibility with programmers.
6. Add Field
The task pane is removed in Microsoft Access 2010 and replaced with Data Type gallery. In Access 2007 you could add a compliment of fields that have been defined in other tables such as email or DOB and retain their previously described properties. The new feature in Access 2010 allows you to add a compliment of fields all at once. For instance, you can include the Street, City, State, Zip and Country. Simply click the address field to add all the above mentioned list of fields. It's a great new feature.
7. Sharepoint integration and new Web Database file type
In case you get too excited understanding the publish to web function can be applied to Sharepoint sites. The ability to share the Access databases within an organization can be huge. This was available to some extent in Access 2007. However, the integration is tighter and publishing is more convenient.
8. Pre-Built Application Templates
Get started with a pre-built application that will enable a starting point before customizing to your needs. It helps you to ensure your base application has been built correctly and optimized to be reused across your organization.
9. Improved Expression Builder
When building out the critical if-then statements, the Expression Builder will make it easy and more intuitive to create expressions when creating application. Microsoft introduces  Intellisense in the Expression and Query Builder portions of Access. With Intellisense you can just type in plain text and it will be auto complete, this will definitely help to reduce the error.
10. Improvements for Working offline
Now you can make changes to your form, reports, queries and macros offline. You can upload them to Microsoft SharePoint Server 2010 when you are reconnected. All the changes and updates are automatically synchronized.