Motorola spent $880,000 in second quarter to lobby government on minerals, patents
By AP
Friday, July 30, 2010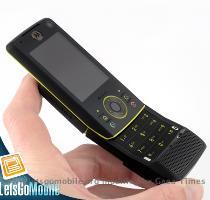 more images
Motorola spent $880,000 lobbying in second quarter
WASHINGTON — Motorola Inc., the maker of cell phones and other telecommunications equipment, spent $880,000 in the first quarter to lobby the federal government on laws such as those that sought to discourage electronics manufacturers from using minerals from rebel-held mines in the Congo, according to a disclosure report.
Motorola also lobbied the federal government on legislation involving public-safety communications networks and patent reform, according to the report filed on July 20.
The amount is down from the $1.12 million that Schaumburg, Ill.-based Motorola spent in the year-ago period, and up from the $850,000 it spent in the first quarter of 2010.
In the April to June period, the Motorola lobbied Congress, the Justice Department, the Department of Homeland Security and the State Department, according to the report filed with the House clerk's office.