Third Dell Laptop Goes For Spontaneous Combustion
By Angsuman Chakraborty, Gaea News Network
Monday, July 31, 2006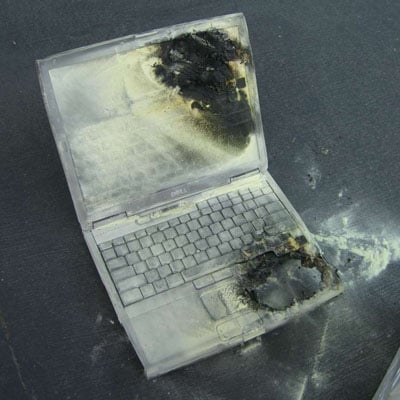 This is the third reported case of Dell Laptops exploding in flames, this time in Singapore.
Register reports another Dell notebook, a Latitude D410, has burst into flames. According to the machine's owner a series of popping noises culminated in a surfeit of white smoke and "flames coming up the side of the laptop". The incident actually happened in November 2005, the Sydney Morning Herald reports today, but its disclosure was prompted by last week's case of a spontaneously combusting Dell notebook in the US.
Last month I reported the first case of Dell laptop's exploding in flames at a conference in Japan.
Dell should go for a product recall. At this rate Dell laptops are surely going to be banned in airplanes, and for good reason.