Attack on Indian Students in Australia: AAERI Interview
By soumitra, Gaea News Network
Monday, January 4, 2010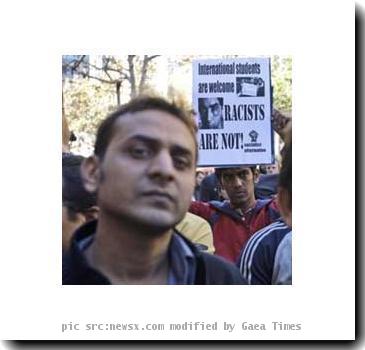 more images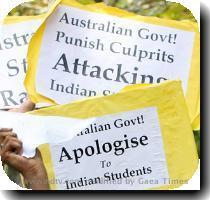 more images
Kolkata - Attack on Indian Students in Australia has become a serious issue in the recent past. The number of attacks are more than just only a few and the incidents does not seem to be isolated any more. Even the Prime Minister of Australia, Kevin Rudd is concerned over the incidents which is clear from his recent remarks. Some are arrested and jailed for the incidents but the whole situation is perhaps not like it was a few years ago. The Indian students are forming a group in Australia to protect themselves.  We interviewed Association of Australian Education Representatives in India (AAERI) on 17th November 2009 for their viewpoints on the entire issue. Some of their viewpoints were quite surprising, to say the least. Following are the excerpts from telephonic interview with Mr. Gulshan Kumar, President of AAERI along with some retrospective notes (in italics).
Angsuman :  What is AAERI doing to ensure the safety of Indian Students in Australia?
Gulshan Kumar : Ours is an association and we do not have any judicial or executive power to deal with these things but we play a strong advisory role in it.
Angsuman : Where should students go when a student suffers a criminal assault other than going to the local police station?
Gulshan Kumar :  First of all, let me tell you that there are two types of students who have been going to Australia. First type of students are going to Universities and quality providers and the second type of students are going to private providers and education is a second priority to them. They are going to work in Australia and acquire permanent residency. The maximum of attacks has happened on these type of students who are economically poor and they live in distant suburb areas which are considered to be unsafe. Most of these students work in night shifts driving taxis, working in petrol pumps and 24 hour stores. These make them soft target for the criminals. These type of attacks can happen in any metro.
Angsuman : A lot of students also go to US but we don't get to hear these type of attacks on them.
Gulshan Kumar : I agree with you but students going opting for such courses in US won't get VISA. Australia has been very fast on the VISAs. Students with poor communication skills or low economical backgrounds would never get VISAs for US but in Australia they can get a VISA without any interview. This has been a negative side of Australian VISA system and we have been lobbying against that.
Overall 20% of all the international students in Australia are Indians which means one in every five students are Indians and 50% of them are in Melbourne. Most of the attacks happened in Melbourne because they are very much visible here. I stayed for 3 weeks in Melbourne and used 15 taxis, 13 of which were driven by the Indians.
Angsuman Notes: The data was provided without any validating source.
Angsuman : Could it be that recession is a major factor behind these things?
Gulshan Kumar : That may a small element of it but the problem is multi-dimensional. One of the reasons is the category of the students who have been attacked, number two may the pressure on the local population due to recession. In 2004 there were less than 4,000 students going for the vocational courses and in 2009 the number of students have gone up to 52,000. So, 13 times increase in this particular category. They are from poor economical background and they take up the jobs which are meant for the local residents.
We questioned him later if he had any validating source for these data and he replied saying

Also there have been numerous news reports quoting Australian government officials such as the Australian Prime Minister Kevin Rudd and the Deputy Prime Minister Julia Gillard on the proportion of Indian students vis-à-vis the Australia's entire international student market
E. G. https://bit.ly/5I9CAS
Mr. Ravi Lochan Singh, Editor of AAERI Newsletter, later summarized the points saying:
Basically he (Gulshan Kumar) was talking about the qualities of the universities and he was trying to explain that there are two types of students who are going to Australia, one, are those who are going for the vocational courses like cookery, hair dressing and there is others and there are people who are going to universities. The students who are goimg to the universities have not been affected at all. It is the students who have gone largely to the small colleges where the fees is low and the VISA has been used as a way to reach those countries who have been affected. Gulshan mentioned that they aren't students at all. In fact, large number of students are going for diplomas.

Secondly, you wanted to know about the quality of the universities and I want to mention that there are eight universities from Australia which are in the top hundred and we don't even have one university from India in the top hundred. Even those eight universities from Australia are accessible to normal families. That's the advantage of Australia has.

Next thing you were talking about the profile of the attackers. Now it is fully established that the number of attacks were not by the white Australians. And in fact many of the attackers were by the migrants and including one of the attackers happened to be an Indian.

You were talking about whether unemployment was an issue or not. A lot of attackers were also teenagers and who are trying to get an easy money from an easy prey. And what Gulshan mentioned that there are a lot of students who go there working at a wrong time at a wrong place traveling late at night or staying at areas because of low cost and all that. In the evenings or late at night when you are traveling back from working at a petrol pump going home at that time, it is sometimes possible that you meet druggies and varuous other kinds of people who might take advantage of you - not for big money, for even a mobile phone or $10 or $20.
Later on Ravi Lochan Singh emphasized that most of the people who have been attacked are from Hyderabad and Punjab because of the job they are doing. He indicated that there are very few Bengali people who would drive a taxi or would do a course on hair dressing.
Normally, students coming from Eastern India would do a courses like university courses and degree courses. Universities are safe places. There is no issue about that.
According to his experience, he indicated that 90% students would go for post graduate or undergraduate level at the universities and only 10% students would go for the vocational courses.
Now, if you look at the numbers coming out of Punjab, it is totally reversed. 90% are at the diploma level and only 10% at the universities.
We questioned him through E-mail that it appears that there has been an attempt to segregate Indians depending on the work they do or their location India. Would you like to clarify? This is his reply.
There has been no attempt to segregate Indian students heading to Australia neither by virtue of origin nor chosen vocation.
In terms of which students go for what programs; this varies from one part of India to another. The point we are trying to get across is that if we look at the application trends/patterns of students going to Australia from our experience over the last couple of years, we will find that from East India 90% go for university courses while 10% go for diploma vocational. If we look at North India, especially regions such as Punjab, this tends to be the opposite. A lot of students from Punjab and Hyderabad tend to choose low cost diploma programs and this is a fact.
Now if we also take into account that because Australia gives international students the opportunity to work parallel to their studies (Note: students must first acquire a student work permit and maintain attendance in their class work) these same students tend to be heavily employed in risky part time jobs which may entail working and traveling home at vulnerable times, often on public transport that are not safe e.g. casual shift work such as stacking supermarket shelves at night.
On the other hand university students are not largely affected because the Universities have support services in place and take care of matters related to the safety of their international students.
Also one must also take into account that, as Indians, our decision-making process when it comes to matters such as relocating abroad; be it for economic migration motives or study-abroad, is often community oriented i.e. we tend to show relatively higher interest in migrating to areas where we have an uncle or friend or well regarded referral contact (etc) who lives there and hence, can vouch for our decisions to move and often give insightful tips on on-the-ground realities.
FYI, I came across this interesting article from Australian media on the same. Perhaps you'll find this interesting too. https://bit.ly/6u3PdD

Angsuman Notes: Overall an honest attempt was made to allay the fears of at least certain type (affluent) of Indians going to Australia. The apparent attempt to segregate between Indians depending on the work they do or the course they pursue in Australia left a bad taste in my mouth and as such I didn't want to pursue the issue further.
Note: Gaea Times ( a division of Taragana Inc) or any of its employees are not connected with AAERI or haven't received any incentive in any form from the organization or its associates. The interview was conducted at the request of AAERI.