Earnings roundup: Nike 2Q profit dips, Accenture 1Q earnings fall but outlook brightens
By AP
Thursday, December 17, 2009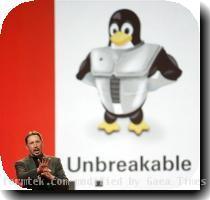 Earnings roundup: Nike, Accenture
Among the earnings stories for Thursday, Dec. 17, from AP Financial News:
Top stories:
PORTLAND, Ore. (AP) — Nike Inc. said its second-quarter profit fell 1 percent to $375.4 million, or 76 cents per share, as sales for its products remained sluggish around the globe.
Other stories:
NEW YORK (AP) — Global consulting and outsourcing firm Accenture PLC said Thursday its fiscal first-quarter profit fell 7 percent on weak spending by its corporate clients and forecast lower-than-expected revenue for the current quarter. But the company raised its full-year earnings outlook, citing improving momentum.
SAN FRANCISCO (AP) — Software maker Oracle Corp. said its profit jumped more than 12 percent in the latest quarter as corporations seemed more willing to spend money on new technology projects. Oracle's revenue from new software licenses rose 2 percent, ending a four-quarter run of declines.
NEW YORK (AP) — Video game publisher Take-Two Interactive Software Inc. posted a wider loss for its fiscal fourth quarter on Thursday as charges and expenses outweighed a 6 percent increase in revenue.
NEW YORK (AP) — FedEx Corp. says the economy has "reached a turning point," but a full recovery could still be a long way off.
MILWAUKEE (AP) — The rising popularity of cereal among those looking for a cheap meal combined with plunging ingredient costs to boost the second-quarter profit of Cheerios maker General Mills Inc. by 50 percent.
INDIANAPOLIS (AP) — Rite Aid Corp.'s third-quarter loss narrowed as the drugstore operator cut expenses, but the company said Thursday cost-conscious consumers and price-slashing competitors continued to weigh on its results.
ELMWOOD PARK, N.J. (AP) — Bio-Reference Laboratories Inc., which provides clinical laboratory testing services, said Thursday its fiscal 2009 fourth-quarter profit jumped 37 percent on growth in blood testing and other units.