Egypt to apply for first Arabic Internet domain as UN conference focuses on emerging markets
By Tarek El-tablawy, AP
Sunday, November 15, 2009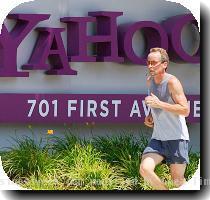 more images
Egypt to apply for first Arabic domain name
SHARM EL-SHEIK, Egypt — Egypt will apply for the first Internet domain written in Arabic, its information technology minister said Sunday at a conference grouping Yahoo's co-founder and others to discuss boosting online access in emerging nations.
Tarek Kamel said Egypt on Monday would apply for the new domain — pronounced ".masr" but written in the Arabic alphabet — making it the first Arab nation to apply for a non-Latin character domain. The effort is part of a broader push to expand both access and content in developing nations, where the Internet remains out of reach for wide swaths of the population.
The registering of the domain "will offer new avenues for innovation, investment and growth, and hence we can truly and gladly say … the Internet now speaks Arabic," Kamel said at the start of the Internet Governance Forum — a U.N.-sponsored gathering that drew Net legends like Yahoo Inc.'s Jerry Yang and Tim Berners-Lee, known as one of the Internet's founding fathers.
"It is a great moment for us," Kamel said of the domain name, which translates as ".Egypt".
The new domains stem from a decision taken at the end of October by the board of the Internet Corporation for Assigned Names and Numbers, a key Internet oversight agency, to develop a "fast-track" mechanism for domain names in languages such as Chinese, Korean, Arabic and others that do not use the Latin alphabet.
The decision marks a key step in the Arab world, where a mixture of censorship, limited content and access have stymied efforts to boost Arabic-language content on the Web.
The dearth of content has opened new market opportunities for Internet companies, with Yahoo, for example, recently acquiring Arab online community Web site Maktoob.com.
Yang said that while there are over 300 million Arabic speakers in the world, less than 1 percent of the content online is in Arabic.
As part of the company's push to boost access in Arabic, Yang said Yahoo would offer its mail and messenger service in Arabic next year. He did not provide an exact date.
Yang said there are approximately 325 million Internet users in emerging markets — a figure expected to grow 19 percent yearly through 2012. In all, about 75 percent of the world's population is still not online.
The prospective new users in developing nations face a number of challenges, ranging from monetary constraints to restrictions on their liberty — as evidenced by an announcement in Iranian media Saturday that officials were deploying a special police unit to sweep Web sites for political material and prosecute those deemed to be spreading lies.
The move reflected the influence the Web had in mobilizing Iranians — and informing the outside world — during the country's disputed presidential election in June — a vote that brought tens of thousands of Iranians into the streets in protests of what President Mahmoud Ahmadinejad's opponents claimed was massive fraud.
It also underscores the challenges Internet companies face in some countries and in hosting content deemed by some governments as subversive.
Many of the new users from emerging markets "will need Web content, and want more content, in their native language and still others won't just be bound by language and barriers, but have other challenges such as reading, liberty," Yang said.
The challenge "isn't just about getting as many people online as possible, but making sure that once they get online, they have something productive to do, something to gain, something meaningful to experience."
Filed under:
Information Technology
,
Technology
,
Yahoo
Tags:
Africa
,
Computing And Information Technology
,
Egypt
,
Internet Technology
,
Iran
,
Middle East
,
North Africa
,
Personnel
,
Sharm El-sheik