Finally A Software That Lets You Test Google's OS on your Windows Laptop
By Shaon, Gaea News Network
Thursday, December 2, 2010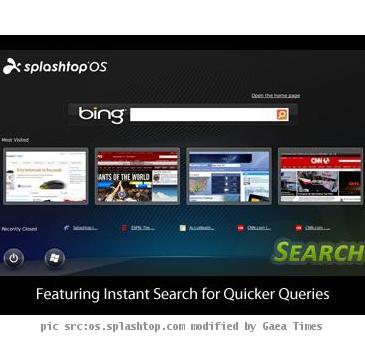 more images
Splashstop an instant on web focused OS with Chromium which was available as a bundled product with laptops is now available as a free download. The catch being HP Mini and Pavilion laptops, and one Compaq, that can run it, at the moment.
The list of available products in which this app is compatible are as follows
HP Mini 110
Compaq Mini CQ10
HP Mini 210
HP Pavilion dm4
HP Pavilion dv4
HP Pavilion dv5
HP Pavilion dv6
HP Pavilion dv7
So id you have the right model this one is going to be a lifesaver. It boots quickly into a minimalist OS. The OS features Flash and comes loaded with Chromium or the open source version of Google's Chrome OS with Flash. The search bar utilizes Microsoft's Bing search. The interface is user friendly and will let you to swap in and out of the Windows environment. The Chrome's start tab panels make up the desktop.
You can install the free to download version and see if it fits your purpose. Its a freeware, reports are there suggesting that the application may be a bit buggy to start off. The reports are not yet validated.