Turkey Recipe Now In Google Doodle!
By Arnab Ghosh, Gaea News Network
Wednesday, November 24, 2010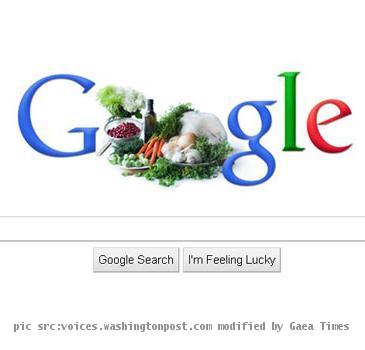 more images
SAN FRANCISCO (GaeaTimes.com)- The millions of Google users are well acquainted with the change in its logo displayed on its homepage which is known as Google Doodle. The Internet search giant keeps altering its well known logo on some specific events and also on the birthday or death anniversary of noted personalities and celebrities. Sometimes the company also makes the logo with animation as was the case with the famous Pacman logo. However, the latest Doodle from Google is not related with anyone. It is related with an event that is related with celebration, reunion and yummy food. The Thanksgiving day is November 25th this year and Google has changed its logo with images of food related with the much awaited day. The New doodle provides links to six delicious recipes for Thanksgiving. The recipes are "Smashed Sweet Potatoes", "Roasted Brussels Sprouts","Cranberry fruit Conserve" etc. The most desirable recipe in the lot is obviously the Perfect Roast Turkey.
The latest Google doodle is made of Turkey, fruits and vegetable images. All these are used in making Thanksgiving meals in the households. The food items have replaced the two o characters of the Google logo. The users who have seen the recipes are happy because they are really easy to make at home. This is applicable for the Turkey recipe as well.
For the turkey lovers the icing on the cake is the fact that the Google Doodle's Turkey recipe is provided by no other than celebrity chef Ina Garten. The turkey recipe mentioned inn the doodle is "a perfect roast turkey with herb and apple stuffing".