Global SCVNGR Hunt is Powered By Google
By Avik, Gaea News Network
Tuesday, November 2, 2010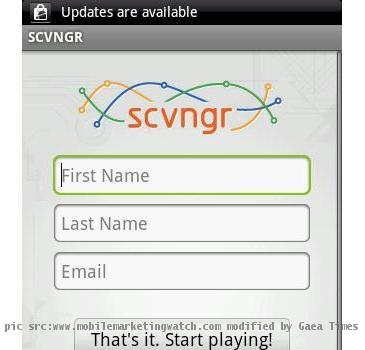 more images
Much to a lot of people's interest, the real-world location-based game SCVNGR is indeed going global, thanks to Google Places application programming interface who is providing the aid. Well, there's more to the story, Google Ventures has also dug up a second round of funding for SCVNGR — the mobile game. As a matter of fact opening itself out to a worldwide audience may very well deliver SCVNGR with an extra edge over all the similar existent outfits like Foursquare and Gowalla.
SCVNGR happens to be a Boston-based company and is proud to present the social game which will be based upon geo-location that will facilitate players link up with friends on Facebook and Twitter.
The underlying concept is pretty simple, what the players gotta do is check in to the different spots, most likely stores and public places then there they got to complete the challenges laid before to earn points which can be real-world rewards such as discounts on purchases.
The good news is that about 1,000 companies and organizations in 20 countries have signed on as customers, as reported by the company officials. Astonishingly, these numbers include Princeton University and the Smithsonian Institute. There are others like Journeys, who tend markets to teenagers. That's pretty interesting, isn't it?