Google GMail Buzz: Highlights Of Google Buzz
By Arnab, Gaea News Network
Wednesday, February 10, 2010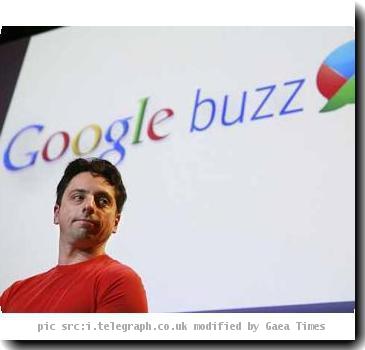 more images
CALIFORNIA (GaeaTimes.com)- Google has finally decided to strengthen its presence in the fast emerging social networking sector. The Internet search giant is trying to promote the highlights of Google Buzz so that the users of its various services lap up Google GMail Buzz fast. It is meant to integrate seamlessly with non-Google based applications such as Twitter that have a large user base. It is apparent that Google wants to do something to counter the increasing craze for Facebook and Twitter. For quite some time Google has been trying to develop an ecosystem, following the example of Apple, so that the users of its services do not have to resort to other companies for getting their work done.
Gmail is considered by many as the most popular and successful product of Google and keeping Buzz inside it is significant. The highlight of Buzz is that it is quite simple to use. However, the users need not be confined within the Gmail atmosphere for using Buzz always. It is also available for the mobile users. The users are allowed to develop a profile in Buzz after which others can find updates on their activities on the web easily.
However, Google needs to take care of the privacy issues. The tech experts are skeptic about the prospects of the newest social networking venture. It has just started and considering the popularity Facebook and Twitter already enjoys the success of Buzz among web users cannot be predicted. However, the Google loyalists think that the Google GMail Buzz idea will click in a big way with average net users. The highlights of the application can be found in various tech sites.