Google Buzz Comprehensive Review
By Jayita, Gaea News Network
Wednesday, February 10, 2010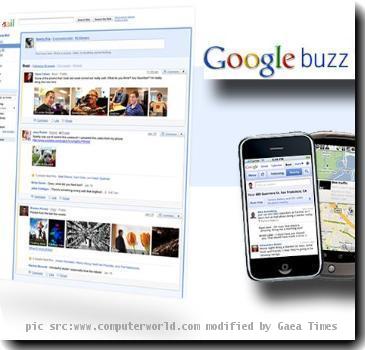 more images
There is yet another way to boost social networking. Google, the search engine giant has introduced Google Buzz that will now compete with two most popular social interface — Twitter and Facebook.
Buzz environment has been embedded within Gmail. It's quite different from Twitter. Unlike Twitter, Google Buzz doesn't send people out of the site to various links. The photos or videos you are sharing with your friends would be shown within the Gmail feed i.e as the most recent unread items from your inbox.
Google has given a prior importance to privacy issues in Google Buzz. Buzz helps you distinguish between private and public posting, which Facebook lacks. In Facebook, people go around posting personal and private information before the entire world, like mad. In case of Buzz, your public post goes to everyone, while only your followers get the private messages from you.
Google has integrated Twitter feeds inside search results. On the Buzz home page, you would not find any list or icon, that you see on Twitter. To make Buzz simpler and user friendly Google has taken a smart move. While using Buzz, you don't have to search for friends or followers– your social networking will be built on your existing Gmail contacts.
Updates and comments show up on the Buzz pages in real time, so it's easy to get in and have a short and compact group conversation. It has technical advantage over Twitter since there is no 140 character limits.
Some negative reviews on Buzz are also circulating the web surface. Many people find the Buzz interface complicated than Twitter. conversation-management features of Buzz is reportedly not so straightforward like Twitter.
You can access Google Buzz from your smartphones. It's very easy. All you have to do is to point your mobile browser to buzz.google.com. While iPhones and Android devices are supporting Buzz, other mobile apps are also claiming to provide this feature very soon.
I am hopeful that Buzz will overcome its early steps mistakes and would be a good contender of Twitter. What do you think? Will Buzz get success over Twitter?