Google Instant: The Best Gets Better
By Chandrajit, Gaea News Network
Wednesday, September 8, 2010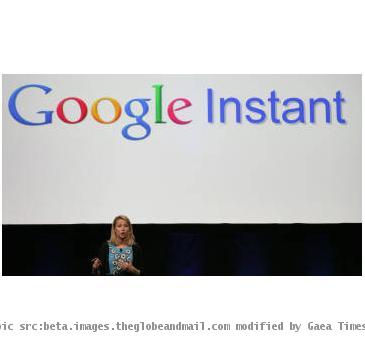 more images
KOLKATA, INDIA (GaeaTimes.com) — The ambitious Search Engine giant creates yet another dimension in the way people search. Today, Google announced the release of "Google Instant". Google Instant is knitting the dimensions of real-time search. Previously, Google used to give search suggestions on the way, as you typed your search keywords. The suggestions were real-time. Now, the search results have followed the same path. You can get search results as you keep typing for them. You don't even have to hit the enter button. Your desired search results are already there. Moving way beyond this "Instant" stuff, the search results are also available when you type your first word for the search phrase.
The Google Instant page says:
If everyone uses Google Instant globally, we estimate this will save more than 3.5 billion seconds a day. That's 11 hours saved every second.
With more than a billion searches on the web everyday, and a billion users searching every week the benefits are indeed volcanic. A whopping time of 350 million hours of user time will be saved every year. Interestingly enough, if everyone uses Google Instant, it can make more than Five Hundred human life cycles save every year. Now, with a savings of 11 hours per second, the time saved gets virtually infinite. Just imagine the amount of constructive work that could be done if the saved man hours are put in use.
Google has always tried to make the search User Interface (UI) easier. It has also dedicated itself in making the search faster via the Caffeine. And now, it has got itself Real Fast and Easy. It seems that a bunch of Googlers are coming up with amazing ways everytime.
Matt Cutts, head of Web Spam team at Google says:
A key insight behind Google Instant is that if we want to get people answers and solve their problems faster, we can help with that by improving our UI to help you formulate queries more quickly.
A real-time predictive search and a result in mid-way is bound to change the way users search. Undoubtedly, its true that the best has gone better. It has made possible for people to search differently overtime. Most users are giving their positive impressions for Google Instant but Webmasters and Search Engine Optimizers have a mixed reaction regarding this. Google mentions that the introduction of Instant may fluctuate Adwords impressions for many. While Steve Rubel, the Director of Insights for Edelman Digital is completely against Google Instant, Vannessa Fox (Ex-Googler) and Matt Cuts are throwing in their positive views.
At the Matt Cutts blog, an user comments:
From a user standpoint, it's the worst change to a search engine that I've seen in a long time. Bing should send you a thank you card since you seem to be doing your best to drive users away from Google.
Irrespective of what people say, it seems that time will decide the ultimate climax of the play in which the Search Engine giant shares its market share.