Top 10 Enterprise software for Startup
By Partho, Gaea News Network
Monday, April 12, 2010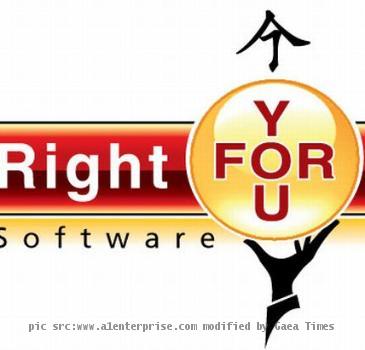 more images
For any startup enterprise software selection is a stretched out process that calls for dedicated team effort to bring a project to fruition. Only with deft planning, and decision making, a statup can achieve a successful outcome from an enterprise software. In order to select an enterprise software for your startup, you must identify your needs and design a detailed graphical model of how your company conducts business, i.e business process modelling, or BPM. This will assist you in drawing the bigger picture. Select the criteria project the outcomes, confront the trade-offs and decide.
If you are one who's running a startup we assembled a list of top 10 enterprise software for startups to assist you in your venture. Our array of enterprise software include the ERP software, CRM software, Accounting software, Payroll software, Timesheet software
1. Microsoft Office Small Business 2007

For startups, Microsoft's small business Office suite is a great tool. It's a powerful and user-friendly productivity suite and contact-management software with new tools to help you save time, stay organized and deliver better customer service. Professionals can create and publish a wide range of marketing publications in house. Users can print, e-mail and the Web their brand elements, including logo, colors, fonts and business information.
2. Salesforce.com
It's a leading CRM software designed to suite most budgets. The CRM software primarily focuses on core areas such as Marketing Management, Sales Force Automation (SFA), and Customer Support. Most appealing feature of the CRM software is the simple and intuitive user interface that can be handled by end-users. The strongest component of the software is the Sales Force Automation.
3. Ofbiz
For the startups a right ERP solution would be the one that fits their budget. The ERP packages are high-expense software so we recommend the open source software.  Ofbiz is an Open Source Enterprise Resource Planning (ERP) system that offers a suite of enterprise applications that integrates and automates several business process of an enterprise. Apache OFBiz  is built on open source technologies and standards like Java,  Java Enterprise Edition (JEE), XML and SOAP. It's framework includes the common data model and sophisticated business processes. With a common architecture all the applications are build around data, logic and process components.
Apache OFBiz comes with a wide range of functionalities
Accounting (agreements, invoicing, vendor management, general ledger)
Asset Maintenance
Catalogue and Product Management
Facility and Warehouse Management
Manufacturing
Order Processing
Inventory Management, automated stock replenishment etc.
Content Management System (CMS)
People and Group Management
Project Management
Sales Force Automation
Work Effort Management
Electronic Point Of Sale (ePOS)
eCommerce
Human resources (HR)
4. Sugar CRM
This is an widely used open source CRM software . We choose it for its outstanding price-to-performance proposition with its purposive modules that include the contacts, leads, accounts and opportunities. Sugar CRM allows tracking  of customer interaction across multiple channels providing a clear picture of customer base. It's a responsive, stable and customizable technology designed to meet the enterprise level demands. SugarCRM offers a variety of solutions that include on-demand, on-premise and appliance-based solution that complies with customers' security, integration and configuration needs. The open source architecture allows any business to customize, integrate and extend the CRM application with in-house technical resources. For more details you can go through our review on Sugar CRM software here.
5. vTiger
It's a free and 100% open source CRM software. The vtiger software features customer support & service, sales force automation, marketing automation, inventory management, multiple database support, security management and much more. vTiger efficiently manages accounts, contacts and opportunities. The software assists the sales team to organize  and handle events. Try to streamline your sales engine, increase business.
6. Intuit QuickBooks 2010
It's one of the widely used version of small business financial software that assists in streamlining and automating financial tasks. The software allows business to manage customer, vendor, and employee data and track every dollar in and out without hassle. New features show you exactly where your business stands and save you time so you can focus on your business
Create invoices & track money
Manage unlimited customers
Login access: 3 + your accountant
65+ standard reports
Call-back and chat support included
Import from Excel and Outlook
Budgeting
Time tracking
Automated online banking4
Business trends for your industry Purchase orders
Import data from QuickBooks desktop
7. OrangeHRM
Human Resource Management software are key for managing companies most important assets -employees. OrangeHRM is a free and open source human resource management business solution designed for the Small and Medium sized Enterprise(SME). This modular HRM system streamlines and automates HR processes. It's build on PHP, MySQL and Apache HTTP Server. The software runs on both Microsoft Windows and Linux operating system. The open source software offers profound collaboration and increased transparency that leads to better communication with users. Especially, the collaboration with the user community is the key advantage of OrangeHRM. With an array of user-friendly features and affordability, OrangeHRM is well-equipped to meet the demands of startup companies. You can read a comprehensive review of the HRM software here
8. Sage 50 Payroll 2010
This is ideal software for managing payroll in-house and employ more than 10 people.  Sage 50 Payroll offers real ease of use. Employees can be accurately paid by cash, cheque, BACS or e-Banking with password protected electronic payslips. The batch timesheets allow faster payroll processioning and allowing users to manage unlimited number of employees. All the employee records are stored in one place including appraisals, absence, disciplinary records, job and salary history.
With Sage 50 Payroll users can submit  P14 and P35 forms online, and the wizards take you through all pay and deductions that you have made over the tax year which must reach HMRC before the scheduled date. The software also offers e-banking facilities to pay both employees and HMRC directly.
Here's some pros with Sage 50 Payroll 2010
Employers can create employee groups and manage an unlimited number of starters and leavers in a given year with additional charge.
Sage 50 Payroll forecasts the impact of pay increase, bonuses or overtime with the salary forecast tool.
The calendar and automatic reminders prompt users about the tasks such as submitting returns to HMRC
9. SourceTap
This is open source software developed in Java is essentially a Sales Force Automation (SFA) Tool. IN addition to SFA functionality such as lead, account and opportunity management, the software also offers a powerful sales management system to improve a sales organization's productivity. The software offers versatile functionalities such as opportunity management, lead management, account management as well as effective sales management system. the tools needs of sales managers and the sales rep.
10.  TimeLive
This is an integrated software designed for web based timesheets for contractors and employees. TimeLive offers time recording, time tracking and time billing. TimeLive offers fully integrated task tracking and expense management tools. Most importantly the software is fully customizable.
Filed under:
CRM
,
Enterprise Software and Services
,
Featured Article
Tags:
Crm application
,
CRM Software
,
Enterprise resource planning
,
Enterprise Software and Services
,
Erp
,
ERP Software
,
Expense
,
Expense Management
,
hrm software
,
Open Source
,
payroll software
,
This
,
Timesheet
,
Timesheet Software
,
Timesheets
,
Web based timesheets