Top 10 US Classifieds Site
By Partho, Gaea News Network
Sunday, June 13, 2010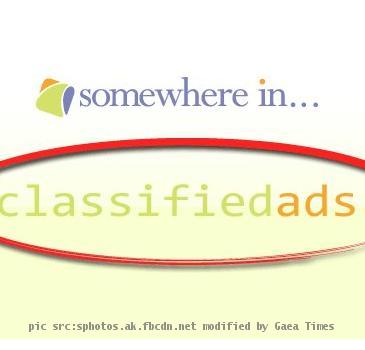 more images
Classified ads have been confined to newspapers for long. With a self-policing nature and low cost structure the online companies offer free classifieds such as Craigslist, Loqqad, Kijiji and Gumtree internationally. There are other online companies those who focus on local hometown region, while some others blanket urban areas using the zip codes. The list of classified ads have a few that can be paid for extra features. In addition the companies provide online advertising services and tools to assist members in designing online ads using professional ad templates. The finished ads can be automatically distributed to various online ad directories as a part of their service. These companies act as both an application service provider and a content delivery platform.
1. Craigslist
It's one of the top classified advertisements sites in US with sections devoted to jobs, housing, resumes and discussion forums. The site boasts of 49.4 million unique monthly visitors in the United States alone. Users of Craigslist can flag a system to quickly identify illegal and inappropriate postings. If users flag a posting a certain number of times, then it is removed. The items can be categories into three categories - misplaced, prohibited, or spam/overpost.
2. Backpage.com
It is leading online classified website in US that offers new and enhanced service offering for make posting advertisement easier and more effective for users. Free job postings, multiple city posting, sponsors advertisements, auto reposting and relationships with traditional print media are unique to Backpage.com and contribute to the website's increasing popularity. As founder of the site Carl Ferrer says "Their goal is to ensure that the users are being able to effectively market their products or services and that consumers are easily able to find what they need."
3. Facebook Marketplace
Facebook is the ideal place to buy or sell a product from friends and friends-of-friends.
4. eBay.com
eBay is a perfect platform for Sellers. They can use eBay classifieds to give free ads. On eBay.com use the Classified Ad formats.
5. OLX Classified
OLX hosts free user-generated classified ads for urban communities around the world and provides discussion forums sorted out by various topics. OLX gained prominence after announcing partnership with Friendster.
OLX offers the ability to design rich HTML listings. It allows central control over selling, buying and community activity. Users can also choose to promote listings on other websites such as MySpace, Xanga and Blogspot. Users have the ability to search items near them wherever they live.  They can post ads in different languages.
6. Backpage.com
It's a local classifieds site that is as easy to use as the 1-2-3. Sellers can post free classified ads with photos. Find houses and apts for rent, personals, jobs, cats and dogs for sale. It is free to post and free to browse.
7. TRADERONLINE
In this website you can place ads for buying and selling of Boat Trader, Cycle Trader, RV Trader, Truck Trader, Heavy Equipment Trader, Aircraft, Autos, Bargains, Motorcycles, Boats, Classic Cars, Aero Trader, Bargain Trader and more.
8. Vast
It offers millions of classified from 70000+ sources aggregated for a one-stop-shop solution.
9. USFreeAds
It's a 3 tiers of membership free, gold and premium. With USFreeAds sellers can create short blurbs about anything. You can also announce for a free website launch or anything else. You need to make sure that it is not for anything illegal or unethical.
10.  Yahoo classified
The Yahoo doesn't have the "For Sale" and "Pets" sections, but it can still be used for real estate, personals, and tickets.