Top 10 VoIP services for Mobile Phones: Save money calling landlines and mobiles abroad
By Partho, Gaea News Network
Thursday, January 28, 2010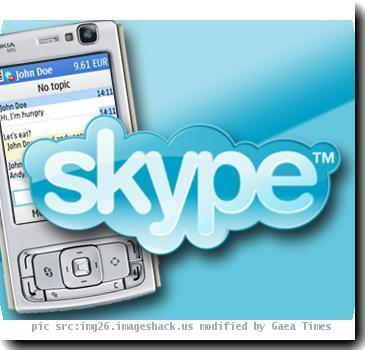 more images
Are you looking for ways to minimize the cost of your mobile calls? With the emergence of newer means of communication, you have some cool options to cut down your mobile communication costs. One of the most widely known idea to reduce mobile bills is using Voice over Internet Protocol (VoIP) service. VoIP allows delivery of voice communication over IP networks such as Internet or other packet-switched networks. VoIP services can be particularly effective in reducing the cost of international calls. What's more, you can send sms and chat on various IM for free or a minimal charge. There is array of VoIP services that allow mobile communication at dirt cheap rate. You need to decide, which VoIP service would fit your needs best. Even Apple's latest release, iPad allows icall to make VoIP calls over 3G.
1. Yeigo
Yeigo is here to end paid for mobile communication. It is an easy-to-install, free software application that can be used on your  mobile phones for calls and messages. Calls are free to other mobiles using Yeigo. Using Yeigo you can make free calls  to other mobiles throughout the world.
Yeigo is widely popular as a VoIP service as it works on most recent mobile phones on the market. To use Yeigo just like many of the applications of its like in this list, you need to have a data connection like Wi-Fi, 3G, GPRS, etc.
2. Fring
It is a free application that can be installed on a mobile phone for calls and messages. Fring users can communicate with users of other instant messaging service like Skype, MSN Messenger, ICQ, Google Talk, SIP, Twitter, AIM, Yahoo etc. Fring needs a data service plan like WiFi, 3G, GPRS etc.
Now Firing has new versions for Symbian and Android phones. Firing requires a data service plan such as Wi-Fi, 3G, Skype, MSN Messenger, ICQ, Google Talk, SIP, Twitter, AIM, Yahoo etc.
3. Truphone
Install TruPhone software on your mobile phone. It is easy to have your mobile phone routed through the Internet. Try to make free calls to other Truphone users. Calls using Truphone to plain mobile and landline phones are cheap. WIth Truphone in you can make calls through GSM network and Wi Fi hotsopts. It means you can use it almost anywhere. However, it is focused mainly on high-end phones such iPhone, Blackberry devices, Nokia E and N series etc.
4. Jaxtr
It's a completely free service that allows incoming and outgoing calls to fixed or mobile phones. In order to use Jaxtr you need to create an account and submit the mobile or phone number on which you wanna be contacted. Now you can contact all the people who have signed up for Jaxtr. You need to make the first call from via web interface or jaxtr. Save the virtual number of the person on your phone to call from Jaxtr the next time. You can save up to 100% on international calls with your mobile using the service.
5. Yackie mobile
This is one of the most innovative service in the field of mobile VoIP. It offers VoIP on a SIM card. Yackie mobile  eliminates the need for data plans or Wi Fi connection. To use their VoIP service you need to buy and insert the SIM card in your mobile phone. Register the VoIP service and start using it. Yackie Mobile offers standard cheap VoIP rates. Let's take a look at their features
Up to 80% savings on international roaming
No contract or monthly fees
Make and receive calls in over 200 countries
Add unlimited phone numbers from 35 countries
No minimum usage requirements
24/7 customer support
Free VoIP account and softphone
Forward calls to VOIP account to save even more
6. Talkety
There is no software to download and install for Talkety. It requires you to call for registration, payments and recording numbers. Of course, the service is not free, but cut down call cost. Talkety allows you to call anywhere in the whole world. They also have a Pro service that allows you to enter the numbers, the phone rings and talkers are connected.
7. Jajah
It offers a free to download and install plugin for mobile phones. Using the plugin you can enter any phone number and call. It also allows messaging. The service claims that they can reduce your phone costs by 95%. However, no part of the service is free. Do check the compatibility
8. Skype
Being one of the most popular VoIP service used by millions of users throughout the world, Skype is not the best choice for mobile calls. Well, Skype is available for softphones for Nokia Tablet, Windows Mobile devices and WiFi phones. Skype has launched its own mobile phone called the SkypePhone that carries all the Skype functionalities and services. Further the mobile service is not available for all the countries yet.
9. Packet8 MobileTalk
The VoIP service helps you to save more than 90% on International calls. The rates are cheaper for fixed VoIP. Only the US residents can benefit from it now. The service is different from other services on the list that are hardware-based. The VoIP works through the GSM service that means you don't need a data service like WiFi or 3G or GPRS etc. MobileTalk can be used on Palm, RIM, Symbian9, Symbian S60V2 and iPhone.
It's key features include
No data-plan
No connection fees
Offers high quality, digital calls
10. Rebtel
The VoIP service offers international numbers for your local contacts. With Rebtel you can make international calls at minimal rates. You need to pay local GSM fee plus a small fee. You have to type your contact's international number. Rebtel will create a local number for the area where you are in, and for you to call them.