Google IO day 1: Roundup
By Partho, Gaea News Network
Thursday, May 20, 2010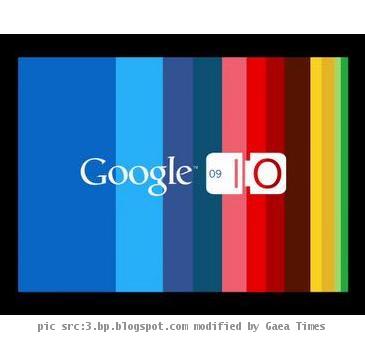 more images
Google started its Google Input /Output conference a day ago on an exciting note. The opening keynote had open up new vistas for developers as well as some interesting views and applications based on HTML5. The search engine giant has grown across different market segments that includes mobile, operating systems, browsers and search and advertising and continues its ventures to add to users experience . Apart from web, Google also targeted the businesses introducing the  Google App Engine to build their own custom apps for Google's cloud infrastructure and second VMware that allows enterprise customer to build cloud apps. We covered up the events of the day.
Events of the Day
Google Font API and Google Font Directory
Google attempts to resolve the intricacies of fonts and the web.  To make things easier for developers, Googel will be introducing more distinctive typefaces that they can apply to their designs. The web has new interfaces google's cross browser experience Typekit and Fontdeck are doing. They provide users with a library of available fonts that they can easily embed into their sites. Typekit has partnered with lots of commercial foundries and is priced affordable for designers who want to use lots
Google's provides an exclusive solution comprising open source fonts. Google's Font API can be integrated into websites using either HTML or using a JavaScript WebFont Loader co-developed with Typekit. Google's font library might not be robust as some competing solutions, but its open source. Overtly the fonts in the library can even be downloaded and used in other ways including print.
Google Latitude API
Google Latitude never became really popular. Google Latitude continuously updated your location and enables sharing your location with friends. Now Google has moved a step ahead and offered Latitude's location awareness access to any application through it's new Latitude API.
Google wave for everyone
Google Wave started on a high, rising to popularity in its beta phase. Now its relevancy and Uber complexity is being questioned time and again. Without paying heed to the questions, Google continues to offer everyone a chance to use Google Wave - Live Waving. It is like live blogging on the embedded Google Wave. Real time updates and works great on every browser. Google Wave has also been integrated to Google Apps for business, which can prove to be useful for proper use.
HTML 5
Google showed how several close knit communities are working together to make HTML5 possible and adaptable.
Web Store for Google Chrome
With Chrome browser's hiking in popularity Google is adding up features to make it more enticing for users. The browser is already gobbling marketshare of its rivals IE, Firefox and Opera. To strengthen its foothold Google will be introducing a web store.  The new Chrome Web Store will be an open marketplace for web apps that helps people find the best web applications across the Internet and allow developers to reach new users.
Google's App Engine for Business
The App Engine will offer new features that will enable companies to build internal applications on the same reliable, scalable and secure infrastructure that we at Google use for our own apps. Google also plans to integrate VMware to make it easier for companies to build rich web apps and deploy them to the cloud of their choice or on-premise. With just one-click users of the new versions of SpringSource Tool Suite and Google Web Toolkit can include their application to Google App Engine for Business, a VMware or other infrastructure such as Amazon EC2.
Google Maps API v3
Maps API v3, a new JavaScript Maps API built from the ground up to offer a clean, fast, and powerful maps application development platform for both desktop web browsers and mobile devices.
With regular updates v3 API has come of age. The polylines, polygons, driving directions, and KML had been there since Maps API v2. In Google I/O we feel our Maps API v3 is all grown up and ready to venture out into the world.
There'd be a significant change in the Street View entirely implemented in HTML in order to accommodate all of the mobile devices on which v3 is supported.
Pegman support to the map and a number of new features that include markers, infowindows and custom imagery.  In addition to the graduation of the Maps API v3 we are also announcing the deprecation of the Maps API v2 and Mapplets. No further announcement is confirmed for feature development is planned for these two APIs.
Tweetdeck HTML5
The desktop client powered by Adobe AIR has gained popularity and takes a step towards HTML5 adoption. Developers are invited to test the HTML5 preview of the HTML5 powered by Tweetdeck. Google is also working on a mobile version of the desktop client to make it accessible for the a larger audience. It will soon support Google Buzz feed for its Desktop Client.
Google I/O day 1 concluded with hopes for HTML 5. Google also opened several APIs for developers and has taken a step forward to go Real Time. We are waiting for Day 2 surprises to unfurl.
WebM
Google, Opera, Mozilla and most of the other companies have started supporting Web Video Codec called WebM. It is a direct competitor to the Apple Backed H.264 codec.
WebM includes:
Vorbis, an already open source and broadly implemented audio codec
VP8, a high-quality video codec we are releasing today under a BSD-style, royalty-free license
A container format based on a subset of the Matroska media container
Even Microsoft has joined the party after the announcement and stated that IE 9 will support both the video codecs ( VP8 video codec and H.264 )