How To Create Your Own Search Engine in Opera?
By Angsuman Chakraborty, Gaea News Network
Friday, November 10, 2006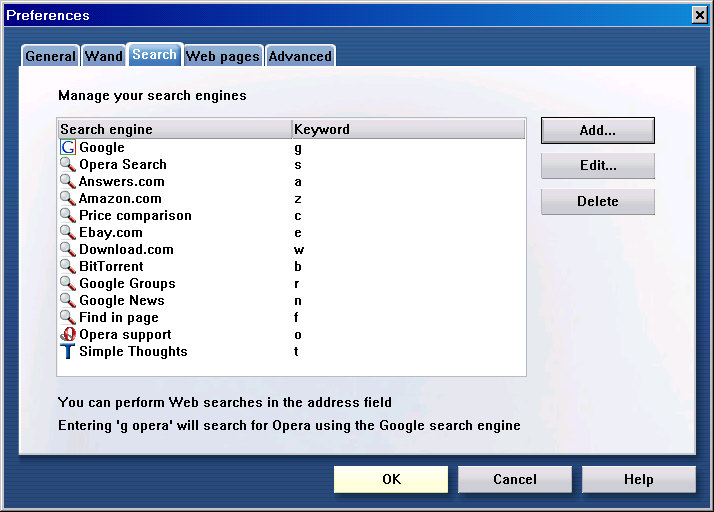 You can easily create your own search engines and even assign keywords to them in a minute or so. This mini-tutorial will show you how you can add any WordPress blogs search as one of your search engines. This is the second part of the series on how to easily manage search engines & searching in Opera browser.
Contents

How WordPress search works?
WordPress is a popular blogging platform (our contributions) which provides a simple way to search existing blog articles. For example to search for java in this - blog - http://blog.taragana.com/ you simply need to access the the following page using a GET request (i.e. open it in your browser) http://blog.taragana.com/?s=java
Alternatively you can load this page for the same results:
http://blog.taragana.com/index.php/search/java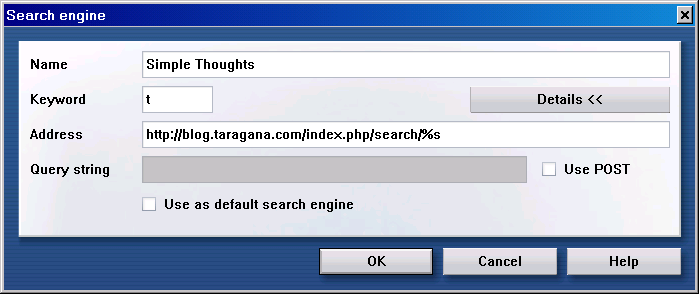 How to add a search engine to Opera browser
In Opera you can manage your search engines by going to Tools->Preferences and clicking on Search tab. Here you will find list of search engines which are available by default (see first diagram). Click on Add.
Say you want to add my blog search (details in last paragraph) to your search engine list. So give it a name, say 'Simple Thoughts'. Assign it a keyword, say 't' (how to use this?).
Now click on details to see additional options.
Add this as address:
http://blog.taragana.com/index.php/search/%s
Note: %s is replaced by Opera with the actual search words / phrase you provide while searching.
Alternatively we could also have specified it as:
http://blog.taragana.com/?s=%s
Click ok and you are done.
Note: Here you can also specify it as the default by clicking on the checkbox.
Now you can anytime search my blog for any keywords directly from your browser and without opening my blog page. For example if you want to search for article I have written on relational database then type 'rdbms' in url field and hit enter. Alternatively you can type 'rdbms' in the search field (on the right) and select Simple Thoughts as your search engine.
Conclusion on Opera search
I think Opera is leagues ahead of Microsoft Internet Explorer in providing easy and customizable search functionality. Firefox too provides customizability in search but again Opera has perfected searching from browser and much easier than Firefox to setup, configure and add new engines.
Filed under:
CMS Software
,
Firefox
,
Google
,
Headline News
,
How To
,
Internet Explorer
,
Open Source Software
,
Technology
,
Web
,
WordPress
Tags:
Click
,
Say