SKorean team named Mobile World Cup texting champs
By Verena Dobnik, AP
Thursday, January 14, 2010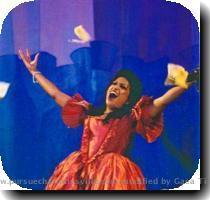 more images
SKoreans named world texting champs
NEW YORK — Two South Korean teenagers have been crowned fastest texters in the world.
The team of 17-year-old Bae Yeong Ho and 18-year-old Ha Mok Min went thumb-to-thumb against competitors from a dozen countries to win the title in a competition Thursday in New York City.
The LG Mobile World Cup challenged nimble-fingered youths on both speed and accuracy. The winning team took home a $100,000 prize.
Second place and $20,000 went to the U.S. contestants — 16-year-old Kate Moore of Des Moines, Iowa, who is the 2009 U.S. National Texting Champion, and 14-year-old Morgan Dynda of Pooler, Ga., the 2009 runner-up. An Argentinian team came in third and the Brazilians took fourth.
With many languages at play, English was the texting language of the U.S. competitors and those from Canada, South Africa, Australia and New Zealand. Other nations represented were Indonesia, Portugal, Russia, Mexico and Spain. Interpreters were hired for non-texting communication.
"My thumbs are up for the challenge," Moore announced hours before the afternoon start time.
But inside Manhattan's Gotham Hall, with the pressure on to text for about two intense minutes at a stretch, she and Dynda fell behind the Koreans by 20 seconds after a good hour of competition dubbed "Race of Death."
"New York sure is an active, lively city!" said Bae, the Korean national champion for 2008 and 2009, basking with his teammate in a crush of admirers.
He has a beautiful bass voice and is saving his $50,000 share of the prize to study to become an opera singer. And Ha said she's saving for studies to become an engineer.
The drill of the third annual Mobile World Cup was simple: Copying words and phrases in one's native language off a monitor correctly, with no typos or abbreviations, and as fast as possible with the required capitalization and punctuation. Some words were intentionally misspelled to test alertness.
Privately, Moore averages 12,000 texts per month, entering up to 3.5 characters per second.
As in mainstream sports, the event drew vocal fans who offered fever-pitch cheers for their favorites — amid peals of laughter.
"USA, USA!" yelled a front-row crowd.
The winners were showered with confetti as they held up mammoth checks representing their earnings.
The event is sponsored by LG Electronics Inc.'s mobile-phone division, a company based in Seoul, South Korea, that supplies its latest handsets for the contest.
Moore said that although she's almost always "carrying on a conversation with someone, texting, "the habit doesn't detract from face-to-face social life. "I can talk and text at the same time, without looking at the phone."
Her friends all do it too; anyone who doesn't is socially ostracized. "When you see someone who doesn't have unlimited texting, it's like, 'What's wrong with you?'"
But there's one thing the teen stopped doing: texting in class. A teacher took her phone away, and her parents were asked to accompany her to the vice principal's office to retrieve it.
The 26 finalists who made it to the World Cup were chosen from more than 200,000 wannabes in a global text-off that began in May. Before they even got to New York, female texters had the advantage — hands down, Moore said.
"Girls are faster 'cause their hands are smaller," she said, adding, "I have perfect hands for texting — thin, long fingers. And fast, of course."
____
On the Net:
LG Mobile World Cup: www.lgmobileworldcup.com