Facebook Announces 'Hacker Cup' in 2011
By Avik, Gaea News Network
Friday, December 17, 2010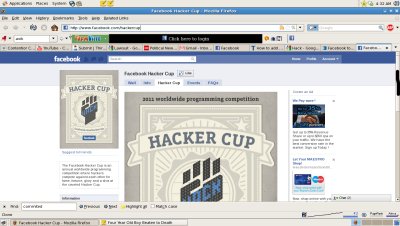 The Facebook Hacker Cup is an annual worldwide programming competition where hackers compete against each other for fame, fortune, glory and a shot at the coveted Hacker Cup. Now, what are they looking for exactly? Exceptionally talented hackers?
Reportedly, People are free to apply and compete online and a final 25 will be flown to compete in the algorithmic programming contest in California in the New Year for (U.S.) $5,000 and the title.
Alan Middleton, a marketing guru housed at the Schulich School of Business at York University, was admittedly a bit baffled at the prospect, and asked,
In a world where we are getting increasingly concerned about privacy (does Facebook) want to be associated with hacking?
Why not help him answer his query.
Registration to this contest opens Dec 20. In an email response to questions about motivation, a Facebook spokesperson said "Hacking is a central part of Facebook's culture. We want to bring engineers from around the world together to compete in a multi-round programming competition."
When asked if they were concerned about the brand being linked with hacking of the more nefarious kind, the spokesperson said "For us, Hack means to find a better way of doing things."