Hewlett-Packard Co. sues former CEO Mark Hurd to prevent him from joining rival Oracle
By Jordan Robertson, AP
Tuesday, September 7, 2010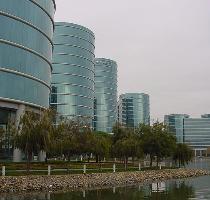 more images
HP sues ex-CEO Hurd over new job at rival Oracle
SAN FRANCISCO — Hewlett-Packard Co. is suing Mark Hurd, the chief executive it ousted last month, to stop him from taking a top job at rival Oracle Corp.
The lawsuit, filed Tuesday in a California state court, came a day after Oracle hired Hurd as co-president to help lead the database software maker's efforts to lure business away from HP. HP claims that Hurd won't be able to perform his job at Oracle without spilling HP's trade secrets and violating a confidentiality agreement.
This type of complaint isn't unusual in the technology world, nor is the confidentiality agreement that Hurd had signed as part of a severance package from HP that could top $40 million.
Technology companies often require such agreements because workers walk out the door with valuable technical information.
But the stakes are higher with Hurd than a rank-and-file employee, and the lawsuit may delay when Hurd could start his new job.
The latest lawsuit also underscores the growing rancor between HP and Oracle.
The companies have cooperated for 25 years to make sure that their products work well together. But that relationship is straining now that Oracle, like HP, sells the computer servers that power companies' back offices. Oracle got into that business through its $7.4 billion purchase of Sun Microsystems last year.
Oracle is mostly known for its database software, which many people use every day but likely don't know it, such as when they're pulling money out of a bank or booking a flight. The software helps companies organize and access their data. It essentially gives them a map to all their information, so their computers know exactly where to find things.
Oracle is the world's No. 1 database software maker, and with the Sun business, Oracle is now among the world's top seller of servers, as is HP.
As HP's CEO for five years, a stint that ended after a sexual-harassment investigation, Hurd was responsible for preparing HP's strategic plans and has intimate details about HP's profit margins and special deals it has offered customers, according to HP's lawsuit.
HP also insisted that Hurd was privy to a "highly confidential" analysis of Oracle's competitiveness against HP.
"Hurd's actions are a serious threat to HP's business," HP lawyers wrote in the lawsuit, which was filed in California Superior Court for Santa Clara County.
Unless stopped, HP said, Hurd would diminish the value of HP's trade secrets, hurt customer relationships and "give Oracle a strategic advantage as to where to allocate or not allocate resources and exploit the knowledge of HP's strengths and weaknesses."
Hurd declined to comment.
In a statement issued late Tuesday, Ellison called the lawsuit "vindictive" and said that HP is acting with "utter disregard" for the companies' partnership, customers, investors and employees. He raised the possibility that the strife could damage that relationship.
"The HP board is making it virtually impossible for Oracle and HP to continue to cooperate and work together in the IT marketplace," Ellison said.
An outright breakup between HP and Oracle seems unlikely, however, because the companies' technologies are so closely intertwined.
These types of cases often end up with a court ordering disputed executives to stay away from certain parts of their new employers' businesses. Hurd's deep involvement with all aspects of HP's businesses could complicate his case.
Still, the lawsuit may only delay Oracle's ability to put Hurd to work.
"In the end, it is likely going to be difficult for HP to prevail," said Kenneth Freeman, dean of Boston University's School of Management. "It's usually a very difficult area to enforce."
HP itself was on the other end of this type of case last year, after it hired David Donatelli, a veteran of the data-storage industry, from EMC Corp. HP was temporarily prohibited from letting Donatelli start work as an executive vice president because of a lawsuit by EMC. A court later ruled that Donatelli could work for HP, but under certain restrictions that split up some of his responsibilities.
Hurd resigned from HP last month after an investigation uncovered inaccurate expense reports connected with Hurd's outings with an actress and HP contractor named Jodie Fisher, who later claimed that her work helping organize HP events dried up after she rebuffed Hurd's advances.
Hurd, 53, who is married with two children, denies making any advances on Fisher. Hurd also insists he didn't prepare his own expenses and didn't try to conceal his outings with Fisher, which often included dinner after the events Fisher helped organize and that Hurd attended.
Ellison loudly came to Hurd's defense after Hurd was forced out of HP last month.
The Oracle CEO has said the HP board's decision to publicly disclose the harassment claim against Hurd amounted to "cowardly corporate political correctness." He noted the board had found that Hurd didn't violate the company's sexual-harassment policies.
HP has emphasized that its board voted unanimously for Hurd's resignation.
Shares of HP, which is based on Palo Alto, fell 42 cents, or 1 percent, to close Tuesday at $39.92. Shares of Oracle, based in Redwood City, increased $1.34, or 5.9 percent, to $24.26.
Filed under:
Information Technology
,
Oracle
,
Politics
,
Sun
,
Technology
Tags:
California
,
Expense
,
Expense reports
,
North America
,
Ownership Changes
,
San Francisco
,
Technology Issues
,
Technology Law And Ethics
,
United States