HP notebook batteries, Hoover upright vacuums, portable generators among this week's recalls
By AP
Friday, May 28, 2010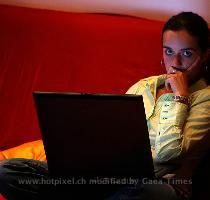 Recalls This Week: laptop batteries, vacuums
NEW YORK — Hewlett-Packard notebook computer batteries that can overheat, Hoover upright vacuums with faulty cords, and generators that may leak fuel are among the products recalled this week.
Also on the list are a magnet game that has an inappropriate age-designation label, tea glasses that could expose users to lead contamination and basketball-shaped chair sets that may have lead paint.
Here are the recalled items this week:
_________
HP NOTEBOOK BATTERIES
DETAILS: Hewlett-Packard has expanded a recall of the lithium-ion batteries used in HP and Compaq notebook computers from last May. New model numbers have been added.
The batteries were made in China and used in HP Pavilion, Compaq Presario, HP Compaq and other HP laptops. They were sold at computer and electronics stores nationwide, on hp.com and hpshopping.com from August 2007 through July 2008 for between $500 and $3,000. Battery packs were also sold separately for between $100 and $160.
WHY: The batteries can overheat and potentially catch fire, creating a burn hazard.
HOW MANY: About 54,000, in addition to 70,000 previously recalled.
INCIDENTS: Since the May 2009 recall there have been 38 additional reports of overheating and rupturing, with 11 minor injuries and 31 cases of minor property damage.
FOR MORE: Call (888) 202-4320; visit www.hp.com/support/BatteryReplacement
_________
HOOVER WINDTUNNEL VACUUMS
DETAILS: Hoover has recalled its WindTunnel T-Series bagless upright vacuum cleaners that have a cord rewind feature. The feature enables the cord to wind inside the vacuum for storage. The recall involves five model numbers. The vacuums were made in Mexico for Hoover Inc., of Glenwillow, Ohio, and sold by major retailers and independent stores nationwide and online from August 2009 through May 2010 for between $100 and $160.
Vacuums with the manufacturing code KO9A followed by a green dot are not included in this recall.
WHY: The power cord could be pulled loose because is not properly routed or securely in the cord rewind assembly. This poses fire and shock hazards.
HOW MANY: About 108,000
INCIDENTS: There have been three reports of minor burns to carpet and furniture, and one report of a burn to someone's hand.
FOR MORE: Call 888-891-2054; visit www.hoover.com/tseriesrewindrecall or www.cpsc.gov.
_________
CUMMINS PORTABLE GENERATORS
DETAILS: Cummins Power Generation recalled five models of its Onan portable generators made in China by Loncin Industries Ltd. Only generators manufactured on or after June 2009 and before December 2009 are included. The generators were sold by Cummins dealers nationwide from June 2009 through February 2010 for between $700 and $1,100.
WHY: Fuel can leak through the carburetor when the generator is being used, posing a fire hazard.
HOW MANY: About 550
INCIDENTS: There have been 25 reports of fuel leaking. None have involved injuries or property damage.
FOR MORE: Call 800-344-0039; visit www.cumminsonan.com/portable/ or www.cpsc.gov.
_________
BUCKYBALLS HIGH POWERED MAGNET SETS
DETAILS: Buckyballs High Powered Magnets Sets contain 216 powerful rare earth magnets that can be used to build various shapes and patterns.
The recalled magnets were imported from China by Maxfield and Oberton LLC, of New York, N.Y. and sold at toy stores, stationery and office supply stores and online March 2009 through March 2010
WHY: The sets were labeled "Ages 13+" but do not meet the mandatory toy standard which requires that such powerful magnets are not sold for children under 14. Magnets found by young children can be swallowed or aspirated. If more than one magnet is swallowed, the magnets can attract each other and cause intestinal perforations or blockages, which can be fatal.
Sets sold since March 2010 were labeled "Keep Away From All Children" and are not being recalled.
HOW MANY: About 175,000
INCIDENTS: There have been two reports of children swallowing one or more magnets. No injuries were reported.
FOR MORE: Call 888-847-8716; visit www.maxfieldandobertonsafety.com or www.cpsc.gov.
_________
MOROCCAN TEA GLASSES
DETAILS: The Moroccan tea glasses have an etched graphic design on the outside of the glass and were sold in assorted colors including blue, green and red at Cost Plus/World Market stores nationwide from June 2009 through November 2009.
The 7-ounce glasses were about $5, and 11.25-ounce size was about $6. They were made in Morocco and imported by Cost Plus Inc., of Oakland, Calif.
WHY: The glasses contain excessive levels of lead in the exterior coloring. Lead is toxic if ingested by young children and can cause long-term health problems.
HOW MANY: About 14,000.
INCIDENTS: None reported.
FOR MORE: Call 877-967-5362; visit www.worldmarket.com.
_________
CHILDREN'S HOODED SWEATSHIRTS
DETAILS: This recall involves certain boys Rim Rocka hooded sweatshirts and Pelle Pelle Girls' hooded jackets imported by Lollytogs Ltd., of New York, N.Y. They were sold at Burlington Coat Factory stores and at various small retailers nationwide from February 2008 through September 2009 for about $14.
The boys sweatshirts are black or navy blue, with red and white trim or gray and white trim, and have a large number embroidered on the front. The drawstrings are attached at the hood. They have an emblem on the left shoulder that reads "RR" and a tag at the back of the neck that reads "Rim Rocka official sports apparel."
The girls' hooded jackets have a zipper that zips to the top of the hood. They are either pink or white, with pictures of bottle caps printed on the hood and sleeves. They have "Soda Club pelle pelle" on the top right of the sweatshirt. The tag at the back of the neck reads "pelle pelle." The drawstrings are attached at the waist. The sweatshirts were sold in sizes 2T-14.
WHY: The jackets have a drawstring through the hood and the vests have a drawstring through the waist which create a danger of strangulation and entanglement for young children.
HOW MANY: About 23,000
INCIDENTS: None reported.
FOR MORE: Call 800-637-9035; visit www.ltapparel.com or www.cpsc.gov.
Filed under:
Technology
Tags:
Asia
,
China
,
Computer Hardware
,
Computing And Information Technology
,
Consumer Electronics
,
East Asia
,
Energy
,
Greater China
,
New York
,
North America
,
Ownership Changes
,
Products And Services
,
Sports
,
Sports Apparel
,
United States
,
Utilities