Microsoft Outlook 2010: 10 Best New Features in Microsoft Outlook 2010
By Jayita, Gaea News Network
Thursday, February 18, 2010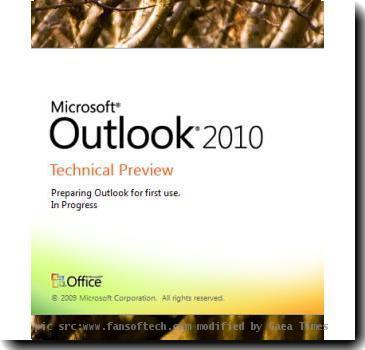 more images
The much awaited Microsoft Office 2010 is going to be released in July. But the users of Beta version of Office 2010 has already expressed pleasure, finding some enhanced features incorporated in this new version. Outlook 2010 is coming with
some amazing features. Microsoft is adding some social hooks into Outlook 2010. So, you can try the LinkedIn plugin now in beta. The other social networks will be added later when Outlook 2010 goes on sale.
1. Outlook Social Connector (OSC)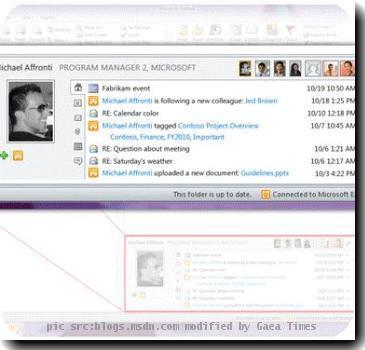 This is a great feature Outlook 2010 is providing. With the help of OSC, you can now keep track of your friends or colleagues. While checking e-mail, you can view an aggregated collection of information about the sender, right to your Inbox. The OSC shows the recent messages you've exchanged with that person. Can't recall the last time you emailed the person? Just take a look and OSC reveals your last message at one click.
2. OSC Gallery for Meeting Details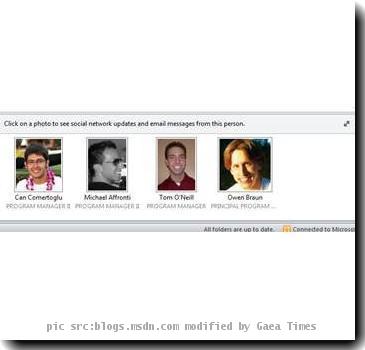 Outlook 2010 is providing you with a rich set of e-mail management tools to manage your personal and professional life while staying in touch with the people, matter most. If you want to view the list of people you are going to meet, OSC gallery is there to help you. By clicking on a particular picture, you will be able to view his/her activities, communication history etc. You can easily switch in and out of Gallery View by clicking on the little double-arrow icon in the upper-right corner of the People Pane.
3. Activity Feeds

Outlook 2010 is equipped with social networking tool. The OSC connects you to business and consumer social networks. The SharePoint 2010 enables OSC to download activity feeds for your friends and colleagues and include them in new people Pane. Hence, you will be updated with their activities such as changes to their personal status, websites they tag, profile updates to their MySite, documents.
4. Emphasis on Social Networking

Microsoft is set to pull out all the stops to make Outlook 2010 social-networking-savvy. Given OSC, Outlook's popular plugin,  Xobni, will now be able to pull in relevant contact information, photos, and social stream data from both LinkedIn and Facebook.For the latest it will also support Twitter. Further, LinkedIn opened up its platform to software developers to provide an interface with Microsoft Outlook. There's a new LinkedIn plugin (beta) for Outlook 2010 that connectes you with your co-workers. You can also click the LinkedIn badge underneath his/her photo to jump to person's profile page.
5. Build your Network
OSC will help you dominating over several networks. You can even dare to build your own network and add your friends and colleagues into it. By clicking the '+' sign underneath a person's picture, you can send a request to be their colleague on any of the networks you are connected to. OSC saves contacts in Outlook after synchronizing your colleagues from each of your connected network. This enables easy message sending, calling or editing your contact list.
6. Conversation Management

Conversation arrangements in this new Outlook 2010 would be different from that you have seen before in previous versions of Outlook. It would be astonishing to the users to find their emails, grouped into conversations, based on the subject of the mail. Isn't it great? In addition, it has been observed that simple grouping and hiding the older, redundant content of conversations causes 40% reduction in the number of items, seen in the Inbox. You can view the content of the latest email in the thread or read entire series of messages by a single click on a conversation item. While expanding a conversation, you can also see your Sent Items, right inside the conversation.
7. Easily identify who reply to who

Outlook 2010 makes it easier for you to identify who replied to who within a conversation. If you click on any individual message inside a conversation, you will be shown a dotted line
that indicates which messages it replies to. It is helpful when a reply comes into a conversation as a response to some earlier messages in the conversation.
8. Quickly Hide annoying emails
With the new ignore button in Outlook 2010, you can quickly move an entire conversation and any future items that arrive in your Deleted Items folder. So, you don't have the headache to delete each new email from your colleagues ongoing conversation unless you love poking into other's matter.
9. Smarter way to Reply All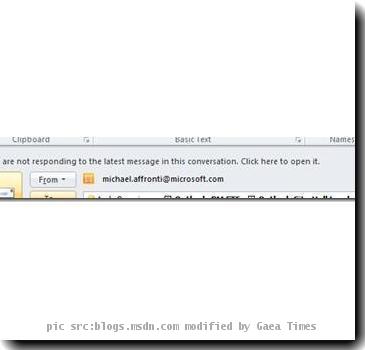 The Outlook 2010 allows you to reply to the latest message in the conversation, even in a smarter way. If you happen to open an older message in the conversation and hit Reply button, a new clickable warning will appear that allows you to instantly jump to the latest message in the conversation and then reply.
10. Slim down your Inbox?

Tired off lots and lots of mails in your Inbox ? Try the new Clean Up button in Outlook 2010. It will move all the older, unnecessary and reluctant messages from your conversation to the Deleted Items folder.