Microsoft Office 2010: New Features compared to Microsoft Office 2007
By Partho, Gaea News Network
Saturday, February 13, 2010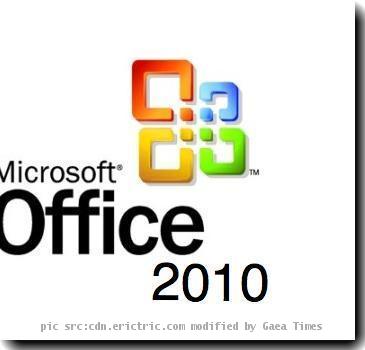 more images
Microsoft is leaving no stone unturned to promote its new Office suite. Recently Microsoft announced a "technology guarantee" program that read "Sell Office 2007 today and your customer can download Office 2010 free". The customers purchasing and activating Office Home and Student 2007, Office Standard 2007, Office Small Business 2007 and Microsoft Publisher 2007 between March 5 and September 30, 2010 will be eligible for free upgrade to a comparable version of Office 2010. However, before moving to an upgraded Microsoft Office version you would always look for advantages of using it over the previous version. Microsoft ensures that those looking to go for an upgraded version from Office 2007 have valid reasons to do so. We draw a comparison to elucidate how MS Office 2007 better's Office 2010.
Updated Ribbon

Office 2007 made headlines with innovative ribon menu system Office 2010 takes it to the next level with a more intuitive ribbon. It provides a new home menu system. Instead of opening up a dropdown the entire window changes color and provides the save, open, close preview and other options. The enhanced Ribbon across Office 2010 applications allows users to access commands quickly and customize tabs to personalize the experience in your working style.
The home menu system offers detailed information on modifications, authors, file size, and permission. The new print and print preview menu that definitely changes the layout most PC users are used to. The new menu by simply cleaner than that of Office 2007.
Better multimedia Editing

The clear that Microsoft upped the multimedia editing options form the last iteration. Image editing has been improved in office 2010. There are new tools for screen capture in Word 2010 and PowerPoint 2010. You can even remove the backgrounds with the new Office. Now Microsoft PowerPoint has in-video editing. You might even remove backgrounds with the new Office. All this implies you can do so much more without even using Photoshop.
This features takes Office 14 to a new level. Suppose you wanna trim some parts of a video clip before presentation or you might be looking to apply professional styles to a video like reflection coupled with 3D rotation. PowerPoint 2010 now includes some powerful video editing features.
Broadcast Slideshows within PowerPoint
This is one of the most exciting new features of PowerPoint 2010. Now you can deliver live PowerPoint presentations over the web and anyone sitting in any part of the world can get connected to the web browser.
Distribute the slides as video
In PowerPoint 2010 you can convert your presentation into a video file that can be uploaded on YouTube or distributed on a portable media player such as the iPod. Moreover, the video conversion runs in the background that allows you to use PowerPoint while creating the video.
More visually enhancing

Office 2010 comes with an array of design options to help you generate better ideas. It includes new and improved picture formatting tools such as color saturation and artistic effects that allow you transform your document visuals into a work of art. Office 2010 offers new SmartArt® graphic layouts and a wide range of new pre-built Office themes to create fantabulous designs in Word.
Real time collaboration and communication
Not just the web version, the desktop version of Office 14 also sports a real time buddy list of sorts that shows what individuals are currently editing within a document. Now you can see who is online and who is working on what. This is a great revamp when compared to Office 2010.
Stronger Security Settings
Office 2010 improves upon Office 2007 with respect to author settings, restricted editing and protect mode. This stops you from accidentally editing a file you download until it is enabled.
Embed Web Videos in the Presentation

Office 2010 provides a significant advantage over Office 2007 by allowing users to embed video clips from the Internet into PowerPoint presentation. Now users can just copy and embed code from YouTube or any other video sharing site. The video can be pasted anywhere on a slide.
Quick Steps in Outlook

Microsoft Outlook includes a new Quick Steps feature in the Outlook. With Quick Steps you can create a sequence of commands and apply them to the Outlook item with just a click. For an example, you can use quick step for Send and Delete that will delete the email from your inbox after replying.
Now users can compress the long e-mail threads into a few conversations that can be categorized, filed, ignored, or cleaned up.
Built-in PDF Writer

The Office 2010 programs include a built-in PDF writer that helps you to save documents into PDF format with a click. In 2007 you had to use add-on separately but now you will have native PDF support.
Simpler Document Printing

Microsoft Word 2010 has completely revamped the print dialog.  Take an instance, you can tweak printer settings like margins and preview the changes side-by-side.
Creating better data insights and visuals
Excel 2010 introduces a Sparkline feature that tracks and highlights important trends with new data analysis and visualization. The Sparklines feature allows clear and compact visual representation of data with small charts within worksheet cells. Filter and segment into PivotTable data in multiple layers using Slicers to spend more time analyzing and less time formatting.