Microsoft Infopath 2010: 10 Best New Features in Microsoft Infopath 2010
By Partho, Gaea News Network
Monday, February 22, 2010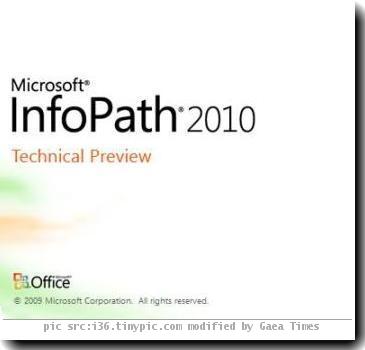 more images
Microsoft InfoPath 2010 allows great features to address the data quality issues. It has been designed to make information gathering more efficient by delivering electronic forms that reach the necessary participants easily, reduce redundant data entry and improve the quality of data collected. Infopath 2010 features fluent user interface that allows the creation of powerful, interactive forms, without having to write any code.  Office users can customize SharePoint list forms and add custom layouts and rules to validate the data with just a few clicks and take them offline in Sharepoint Workspace. Professionals can create custom forms for document workflows and Office Business Applications that include managed code, digital signatures and connect to line of business data.
1. Quickly design forms with easy to use tools

Features to help you create quickly and easily create forms include our new Fluent UI, out-of-the-box rules, improved rules management, pre-built layout sections, and varied styles. The New tab in the Designer Backstage allows you with the available form templates that you can choose from. The majority of templates start with the default layout table.
2. Pre-built page and sections layouts for more attractive forms

Laying out the form and making it more attractive is easier than ever. You can insert a pre-built page layout to get a form structure. Insert some sections of the layout into the page layout and try building your form.
3. New and Improved controls
Infopath 2010 adds a number of new controls
Picture buttons
Hyperlink capabilities
Date and time picker
Person/Group pickers – Updated
Signature Line (Editor Only)
There are new supports in browser control
Bulleted, numbered, and plain lists
Multiple selection list boxes
Combo boxes
Choice group and sections
Filtering
4. Adding new rules to your Forms

Infopath 2010 features new out-of-box rules or quick rules and improved rules management UI. With the quick rules you might easily add rules to validate data, format your form, perform other actions with just a couple of clicks and without any code.
5. Create SharePoint applications
Using Infopath 2010, SharePoint Server 2010, and SharePoint Designer 2010 you can easily create useful powerful team, departmental or enterprise applications. Three types of application that can be developed are

Form-based application
Infopath forms can be integrated with components such as workflow reporting and custom Webpages to create rich form-based applications
Document Workflow
Infopath can be used to design custom workflow initiation and task forms that drive document management processes
Business Connectivity Services
By integrating with BCS you can design InfoPath forms that create, read, update and delete business data from a back-end system.
6. Create forms for SharePoint lists

In InfoPath you can extend as well as enhance the forms that you use for creating, editing and viewing items in a SharePoint list. To customize the form simply navigate to a SharePoint list and on the SharePoint Ribbon under List Tools, choose the Customize Form option. This would automatically generate a form that appears quite similar to the default out-of-box SharePoint list form.
You can easily customize and enhance this form by modifying the layout, creating additional views or pages, adding rules to validate your data, show or hide sections of the form or set a fields value.
7. Publish Forms Quickly
With the new quick publish feature you can publish forms in a single click. In the previous version, it required clicking through the Publishing Wizard every time you wanted to make an update the forms.
8. Creating InfoPath Form Web Part
Infopath 2010 allows you to host your InfoPath browser forms in Webpages by simply adding the InfoPath Form Web Part page. You can also connect it to other Web Parts on the page to send or receive data.
9. InfoPath Editor

InfoPath 2010 Editor features a fluent user interface and provides an enhanced, simpler user experience for filling out forms.
10. InfoPath Forms Service Administration and Management
Applying the Visual Studio Tools for Applications you might add manged code to the forms.