Facebook Places: Now Track Your Friends Anywhere, Anytime!
By Shaon, Gaea News Network
Friday, August 20, 2010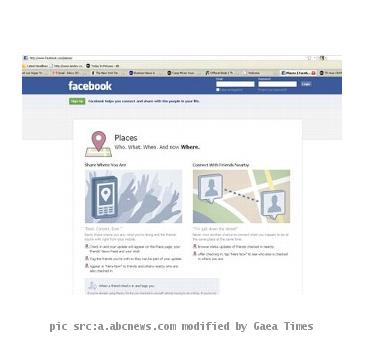 more images
AMITYVILLE (GaeaTimes.com) — Facebook's new application Facebook Places has been designed to avoid uncomfortable meetings with unwanted person at any place. The new location providing service of Facebook may become the most popular feature of social networking sites in recent times.
The location service enables people to track and share their locations in real time. Though the feature was present in the social media, developed by Google and Foursquare, the sheer openness of the design of the Facebook has increased the potential of this feature by manifolds. The feature not only will display the users location, but it will also enable the user to tag the location of other Facebook users.
People have raised concern that this application may be a new pathway of intrusion to users privacy. But Jenna Wortham thinks that Facebook has learned from it's past errors and is really careful with the implementation of Facebook Places.
There are many detailed Faqs to be found in Facebooks site that demonstrates its usage. Only time will tell if this feature poses as a threat to Foursquare.
So what are you waiting for? Hook onto Facebook and share with us what do you feel about this feature.