As Saudi and UAE cite BlackBerry security threat, efforts to clamp down on flow of data seen
By Adam Schreck, AP
Tuesday, August 10, 2010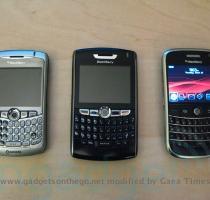 more images
Info freedom at center of Gulf's BlackBerry debate
DUBAI, United Arab Emirates — The militants who carried out the 2008 terror attacks in Mumbai, India, used mobile phones and other handheld gadgets to coordinate an assault that left 166 dead.
Cell phones with video cameras helped bring the world the iconic footage of a young Iranian woman dying of a gunshot wound in the midst of the country's 2009 "Green Revolution" — images spread rapidly on websites the government tried feverishly to block.
Now the use of new, sophisticated technologies is raising alarm in the Arab world's two biggest economies. Saudi Arabia and the United Arab Emirates have threatened to cut off popular BlackBerry services unless they wring out concessions that would almost certainly give them greater access to user information.
Both countries cite security threats. The U.S. says those concerns are legitimate. But critics say the governments' fears also provide a convenient justification to further tighten controls on the flow of information they believe could stir opposition or morally corrupt their societies.
"This is a medium, unlike Facebook or Internet chat rooms, that is very difficult to monitor," said Christopher Davidson, a Gulf expert at Britain's University of Durham. "Security concerns, including terror threats, are sadly being used to mask this clampdown, and the international community is buying this explanation."
It's a tug-of-war over data and security that finds echoes in China's censorship fight with Google Inc., and highlights the way rapid technological change is sowing unease in countries where the unfettered flow of digital information is seen as a threat.
Like China and Iran, the UAE and Saudi Arabia actively police the Internet, blocking access to pornography and material deemed politically or morally objectionable. Neither Gulf state allows organized political opposition or direct elections of national representatives. Freedom of expression is limited.
In the Gulf, BlackBerrys are used both by busy professionals and consumers who see them as a way to avoid unwanted attention from authorities — even if the consumer version of the service lacks the level of protection afforded to corporate clients.
Saudi youth, segregated by sex in public, use the gadgets to flirt covertly. And Emirati users have received messages urging a boycott of gas stations to protest price hikes — a call that conflicts with rules against unauthorized demonstrations.
In China, tensions erupted with Google in January after the company said it would stop complying with the broad censoring of search results demanded by authorities in Beijing. Google has since agreed to obey Chinese laws and stop automatically switching users to its unfiltered Hong Kong site, where the network of mainland Chinese filters known as the "Great Firewall" don't apply.
Leaders in the Gulf saw tensions involving free-flowing technology play out even closer to home last summer, as swelling numbers of Iranian opposition protesters angry over disputed presidential elections turned to Twitter and Facebook to rally support and get word out of clashes with police.
Weeks later, BlackBerry users in the UAE learned their country's leading state-run phone provider had led them to unwittingly install spy software on their handheld devices, prompting an outcry from BlackBerry maker Research in Motion Ltd. The reason for the breach was never made clear.
The dispute over BlackBerrys puts the Canadian-based company at the center of an increasingly global debate over censorship and digital privacy. While it and other technology firms are accustomed to Western expectations of privacy and freedom, winning new customers in the fast-growing developing world means doing business with governments that — some more benignly than others — fear the free flow of information.
Authorities in Saudi Arabia and the UAE say BlackBerrys operate outside of existing regulations. RIM says its regulatory negotiations are private and it "cooperates with all governments with a consistent standard."Saudi Arabia's telecommunications regulator said Tuesday it would allow service to continue in the country for now, citing "positive developments." It was unclear, however, whether the reprieve was permanent.
Even if the countries do gain greater access to BlackBerry data, tech experts say corporate users' messages may still be encrypted, so it's not clear what they'll divine from it.
RIM's showdown in the Gulf has prompted other countries to take a new look at BlackBerry services. India, Indonesia and Lebanon have all raised questions.
"A company like RIM really needs to think not just about the UAE or Saudi Arabia, but about their customers worldwide," said Cindy Cohn, legal director and general counsel for digital rights group Electronic Frontier Foundation. "If BlackBerry is willing to offer backdoor access (in the Gulf), other countries are going to want that too. And at that point it's really a race to the bottom."
The Obama administration has voiced concerns about the pending bans, though U.S. Secretary of State Hillary Rodham Clinton later acknowledged "there is a legitimate security concern."
Both the UAE and Saudi Arabia — important Arab allies for the U.S. — have taken steps to curb violent extremism and crack down on terror financing. Islamic militants, an increasingly belligerent Iran and instability in Yemen, Iraq and Afghanistan are seen as potential threats.
"This is a very tough neighborhood," said Theodore Karasik of the Institute for Near East & Gulf Military Analysis, a think tank in Dubai. "It's very easy to criticize from the outside, but when you're on the inside it's an entirely different picture."
Governments are also under pressure from conservatives who complain that youth have easy access to pornography over the Internet, and that such devices allow the circumvention of traditional Internet blocks.
Officials are reluctant to identify specific incidents where BlackBerry use could create a security risk. But frequently mentioned are reports that militants involved in the November 2008 attacks in Mumbai used mobile phones and other digital gadgets such as GPS devices.
The high-profile killing in January of a Hamas commander by a hit squad in a Dubai hotel has also left Emirati authorities on edge. Police linked Mahmoud al-Mabhouh's death to suspects believed to be working for Israeli intelligence who used prepaid mobile phone cards to call into a "command center" abroad.
Despite the threats, some say threatening to ban features on specific devices is a step too far.
Bahrain's foreign minister, Sheik Khaled bin Ahmed Al Khalifa, said the island kingdom has no plans to single out the devices, arguing that terrorists and criminals have "thousands of ways" to hide their communications.
"Eventually we'll get to a point to ban computers," he said. "There's always a discussion about things that develop technologically. But we have to live with it."
Filed under:
Facebook
,
Google
,
Politics
,
Society
,
Technology
,
Telecommunications
,
Twitter
Tags:
Asia
,
Blackberry-crackdown
,
China
,
Communication Technology
,
Consumer Electronics
,
Dubai
,
East Asia
,
Greater China
,
India
,
Iran
,
Middle East
,
Mobile Communications
,
Mumbai
,
North America
,
Political Ethics
,
Political Issues
,
Privacy
,
Saudi Arabia
,
Sex In Society
,
South Asia
,
United Arab Emirates
,
United States