New iPhone selling briskly as thousands line up for global launch amid shortage concerns
By Lauren Sausser, AP
Thursday, June 24, 2010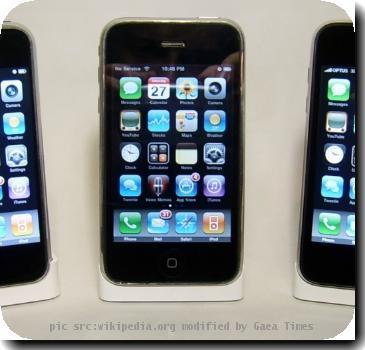 more images
New iPhone selling briskly as thousands line up
WASHINGTON — Apple Inc.'s newest iPhone was selling briskly Thursday as thousands lined up outside stores around the world to snag one amid concerns of supply shortages.
Some stores including ones in Tokyo, Miami, San Francisco and Charlotte, N.C., sold out within hours as the iPhone 4 went on sale in the U.S., France, Germany, the U.K. and Japan. Apple called the demand for the phone "off the charts" and said it's working hard to get phones into customers' hands as quickly as possible.
Sean Hill, 39, a Washington police officer who pre-ordered an iPhone, smiled and proudly held it up for the crowd to see as he left the newly opened Apple store in the Georgetown neighborhood.
"I'm like a kid in a candy store," Hill said. "I'm probably going to spend all morning playing with it."
More than 600,000 people had rushed to pre-order iPhones on the first day they were available, prompting Apple and its exclusive wireless partner in the U.S., AT&T Inc., to stop taking orders for pickup or shipment by Thursday's launch. On Apple's website, new orders weren't promised for delivery until July 14.
Those who didn't place an iPhone 4 order had to line up outside Apple stores Thursday in the hopes of snagging one on a first-come, first-served basis. Customers in line were left guessing about whether they'd get one.
"They have been advertising and hyping for months," administrative assistant Jasmine Cordova, 25, said outside New York's Fifth Avenue store. "They should make sure to stock enough."
In Paris, 24-year-old shoe salesman Julien Remy went to buy one during his lunch break, only to learn the store had run out of the higher-capacity model he wanted.
In Aventura, Fla., Loren and Veronica McHenry held out hope after miscommunications landed them at the back of the line. They had arrived at 9 p.m. Wednesday and were told no one was allowed on mall property overnight. They returned only to learn that 120 people had camped out at a nearby parking lot.
"There's no coordination between the mall employees, security and law enforcement," said Loren McHenry, 42, shaking his head in disbelief. "It's a mess."
After employees at the Apple store started yelling that the fire marshal was going to shut the store down unless people moved back, the couple got shoved behind a large group of people who refused to budge from their spots. In front of them, McHenry said, two men threatened to fight each other rather than move.
From Cherry Hill, N.J. to San Francisco, Apple employees continued the tradition of providing bottled water, coffee, bagels and even cupcakes. In downtown Chicago, several customers waited overnight through severe thunderstorms and even defied tornado sirens that wailed around the city. To keep the die-hard iPhone fans dry, the store handed out black umbrellas with white Apple logos.
Jordan Richardson, who waited outside the Chicago store since 7 a.m. Wednesday, sold his spot early Thursday for $500, then paid another customer $200 to get back in line. He wound up netting $300 — just enough to cover the cost of the phone.
Depending on the amount of storage, the iPhone 4 sells for $199 or $299 with a two-year contract.
At the Apple store in Tokyo's swanky Ginza shopping district, a man dressed as a giant iPhone danced and waived his arms as he made it to the front of the line. Alex Lee, 27, flew to London from Dubai to join the 500-person-long line along Regent Street.
The new iPhone, the fourth since the 2007 original, is thinner with a better-resolution screen and longer battery life. It features a new operating system that can also be installed on some older models, such as the 3GS, along with cameras on both sides to permit face-to-face video calls.
But Julia Glanternik, 28, a medical student in New York, wasn't buying the iPhone 4 for its new features.
"I have the 3GS," she said, "but my friend dropped it in a pitcher of beer last week."
_____
Associated Press writers Jay Alabaster and Jun Stinson in Tokyo, Melissa Eddy and Kirsten Grieshaber in Berlin, David Stringer in London, Rafael Mesquita in Paris, Annie Greenberg in Aventura, Fla., Joel Schectman in New York, Geoff Mulvihill in Cherry Hill, N.J., Steve Karnowski in Bloomington, Minn., Rachel Metz in San Francisco and Jessica Mintz in Seattle and photographer Kii Sato in Chicago contributed to this report.
Filed under:
Apple
,
Mobile Phone
,
Technology
,
Telecommunications
Tags:
Asia
,
Cherry Hill
,
Chicago
,
Communication Technology
,
Consumer Electronics
,
District Of Columbia
,
East Asia
,
England
,
Europe
,
Florida
,
France
,
Illinois
,
Japan
,
London
,
Mobile Communications
,
New Jersey
,
New York
,
North America
,
Paris
,
Tokyo
,
United Kingdom
,
United States
,
Washington
,
Western Europe